I don't know if you remember
the post I wrote back in November
to introduce you to
Adore Me
, a new subscription service that offers a unique personalized shopping experience for $39.95 a month? Well, monthly subscription services are nothing new, but were you expecting such a service... in the lingerie department?
Adore Me is a new trendy lingerie club that offers a unique personalized shopping experience. Everything begins with a short quiz that allows professional stylists, to hand-picked each month for you a new selection of lingerie. You get access to your personalized showroom for free! If you decide to buy, price is a steal! $39.95 per matching set with free delivery and free exchange!
So how does it work, you ask? First, you start by taking the fun
Style Quiz
to define your personality so Adore Me's stylists can analyze your style profile and pick the very best lingerie for you. Then, in as little as 2 hours, you will discover your hand picked selection of lingerie available in your showroom. To see your private showroom, you need to create an account, which is simple, quick, easy and free.
When I took the quiz, my result was Sexy-B but nothing really catched my attention in my showroom - or my size was always sold out - so I waited a few months before ordering a set, hence why I'm writing this post just now. I wanted to pick something special and unique, but I still wanted the piece to be comfortable. After many months of hesitation, I finally made my mind.
Ordering lingerie is always tricky for me because I wear two to three bra sizes, depending on the company and the style of the bra. After taking my measurements, I opted for 34B for the bra and S for the panty. Placing my order was quick and easy, it was shipped one day after I ordered and I got it in maybe three days if I remember well.
I was disappointed to see that the flimsy and thin cardboard box was simply wrapped in a thin plastic envelope, without any more padding than a piece of sturdy cardboard. This immediately screamed cheap to me, and of course, no need to mention that the box itself was bent at some places. I'm glad the product inside was not really fragile...
My lingerie set was carefully folded and wrapped in pretty pink silk paper with a little welcome note on top, and I was relieved to see that the cups have not been bent or damaged.
Juliet - Renaissance inspired bustier, the perfect way to playfully adopt new roles.
While this set plays the perfect role as an evening piece, the trend to transform underwear to outwear could also be applied. Pair this piece with a lovely pair of slacks and a loose blazer to create a look suitable for a night out.



False lacing down the center front
Lightly molded deep plunging cups
Removable thigh-high clasps
12 hooks down the back closure
90% Nylon/10% Spandex
Juliet is not something I would have usually gone for as it's delicate and girly but as I said, I was looking for a unique piece that I did not already had in my linger drawer - can you believe I don't actually own any bustier or corset? I fell in love with the delicate lacing and the sheer frabric.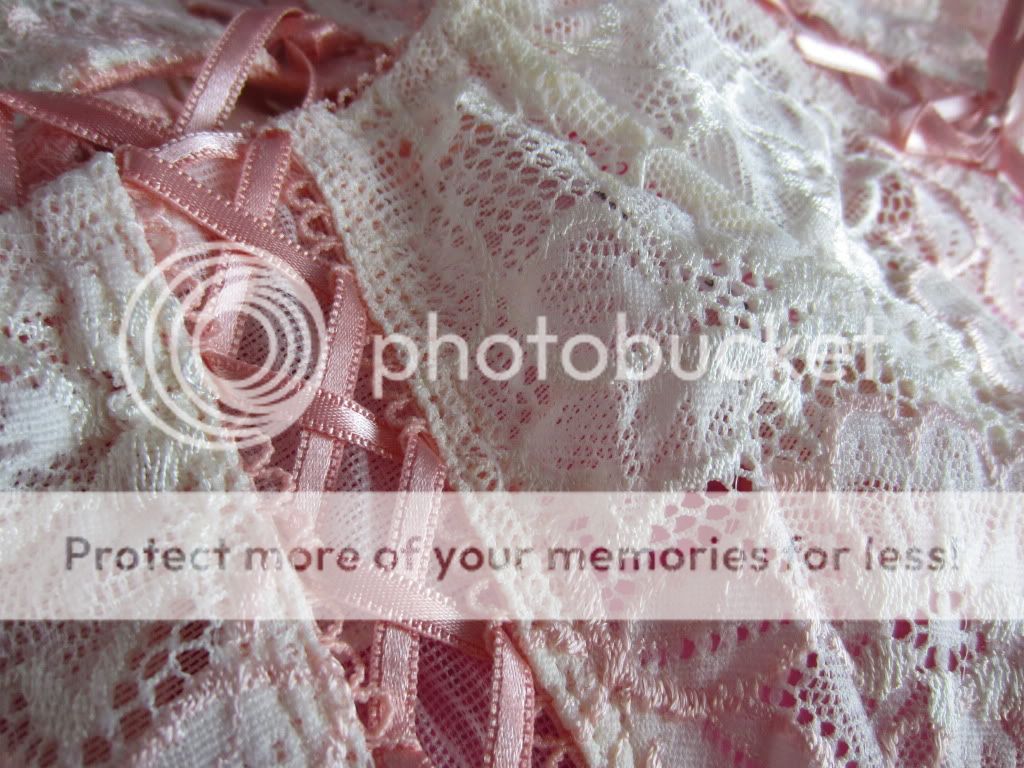 When I opened my package, I must say I was surprised to realize that this set was more on the yellowish side than white, like it appeared to be on the model, and I was put off a little at first. But still, I proceeded to trying it on... and I was disappointed again.
The cups were a little too small for me - it was not uncomfortable but let's just say it was not the most flattering thing as I don't have the biggest bust to start with - but I would have been better in the size just above. This was very disappointing as I made absolutley sure to take my measurements and ordering my size according to their size chart. The panty was OK though.
Another surprise for me - I say "surprise" because it's entirely my fault for not reading the description of the product properly - was the back closure, which consists of 12 hooks all the way down. At first sight, I thought it added a nice little vintage touch, but after much struggling, I had to resort to ask my mother for help for the sake of this review, which of course, I won't have the luxury to do everytime. I can slip in it if I pull it over my head, but I'm afraid it could stretch or damage the delicate fabric over time. I don't know what I will do with this.
Juliet is a high quality lingerie set that is super gorgeous. Sadly, I won't be able to wear it too often... until I figure out how to close those hooks myself!
Each month, as you receive your monthly showroom, you can choose between purchasing an item or skipping this month and not buy anything - as with most similar subscription services - which is considered to be "the most flexible form of membership ever!" but I have to disagree as it's just annoying to have to remember to skip. Shipping is free to US and Canada, and Adore Me offers free
unlimited
exchanges for their customers to be sure that the bra will fite - how awesome is that? - but a $5.95 restocking fee per purchase will be applied to all orders returned for refunds.
Have a look at some of the
featured products
of the current collection and then see your personalized selection for free and start the
quiz
.
Disclaimer: One or more products were sent to me for consideration to review. I am not affiliated with this company and the fact that the products were free absolutely does not influence my opinion.