Hi ladies! I must admit I'm not one to take great care of my nails and most of the time, I'm too lazy to file them and I simply clip them with a nail clipper, which is never good for the nails, of course. I do make efforts though! About a year ago, I switched from cheap emeri board nail files to
glass nail files
, and I never went back because they make such an amazing difference.
Glass nail files will last forever, they are more hygienic than standard ones, they prevent brittleness and they are so easy to clean - smply run it under water. The problem with these is that you can't
buy glass nail files
everywhere and when some are available, they are not the most amazing quality. When I was offered the opportunity to try some products from Mont Bleu, a Czech based company that specializes in products that are hand-decorated with Swarovski crystal such as glass nail files, tweezers, compact mirrors, jewelry and more, I did not hesitate!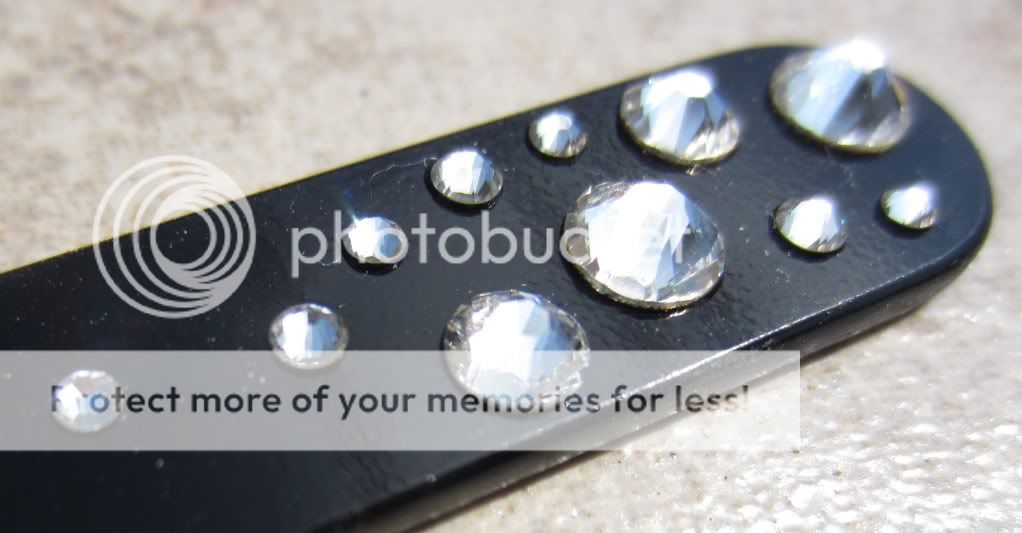 How gorgeous is this "Waterfall Black - Crystal" Swarovski glass nail file, made with SWAROVSKI® ELEMENTS (10,00 €)? CRYSTAL line nail files are supplied with black velvet pouch which is great to prevent them from breaking if you ever happen to drop them on the floor, as they are made of glass.
I was also sent a pink Travel nail file (4,00 €)
which is great to keep in your purse. Their small size gives a few advantages to glass nail files; fit every purse, ideal for travel kits, and less exposed to unexpected breaking conditions, thanks to the protective plastic cases they are presented in. These nail files are made of Czech tempered glass in Bohemia, Czech Republic.

The best part about Mont Bleu glass nail files? They have a lifetime guaranty on the filing surface!
At first sight, I was not sure if the Eyebrow Tweezers "Black Simple II Pink" (15,00 €) looked cute or tacky, but it works amazingly well with its ideally adjusted slant tips and ribbon button that prevents slipping for comfortable brow shaping. It's lightweight and yes - you do get every hair on the first time, thanks to the ultra precised tips! These eyebrow tweezers are made from stainless steel and are decorated with Swarovski crystals. Mont Bleu tweezers are presented in a nice velvet pouch, which you can carry in a purse.
I was actually amazed by Mont Bleu "Aurora Boreale" cube shaped crystal stud earrings (8,00 €). I mean, just look at them - aren't they simply gorgeous? I honestly toughted they would look super cheap but no! I love how they reflect the sunlight, it's simply beautiful.
These earrings are made of metal alloy and covered with hypo allergic metal rhodium. Mont Bleu earrings do not contain zinc or any other harmful metals. Mont Bleu offers two types of earrings with past backing and lever backing and a wide assortment of crystals shape and color, adorned with Swarovski crystals.
Mont Bleu
products are great quality for a relatively low price and you are sure to find something you will like!
Disclaimer: One or more products were sent to me for consideration to review. I am not affiliated with this company and the fact that the products were free absolutely does not influence my opinion.