I know I'm late on this, but still, there is time time to enter so I thought I would share with you what is happening at
eBeauty.ca
to celebrate their birthday. From March 26 to March 30, shoppers can
enter
to win one of three $500 shopping sprees from eBeauty.ca as well as over $2,500 in secondary prizes. Yes, you heard right - one purchase = one entry, making it easy to celebrate, shop, WIN!
Also be sure to check out their
birthday specials
where you can score 15 to 40% off some of eBeauty.ca's best-loved brands such as BeautyBlender, Jurlique, dr. brandt, cake, GlamGlow and more!
My favorite part of the celebrations is
eBeauty.ca's Birthday Bag
- for only $15, shoppers can purchase a limited edition Birthday Bag valued at over $105 full of product from brands such as CARGO, Perricone MD, Stila, Ojon, Consonant and more!
In was extremely lucky to be able to get my hands on one of these lovely bag. I received the polka dots version but if you prefer stripes (which is just as cute!), go for it! It was actually surprised at the quality of this little bag. It looks small but when you open it, the little tissues at the end allows you to stretch it as much as you want. You get an extra pocket inside and I like how nicely padded the inside is, that way you don't have to worry that your precious products might get smashed together. The cute zipper is made of sturdy metal.
Now, let's have a peek inside...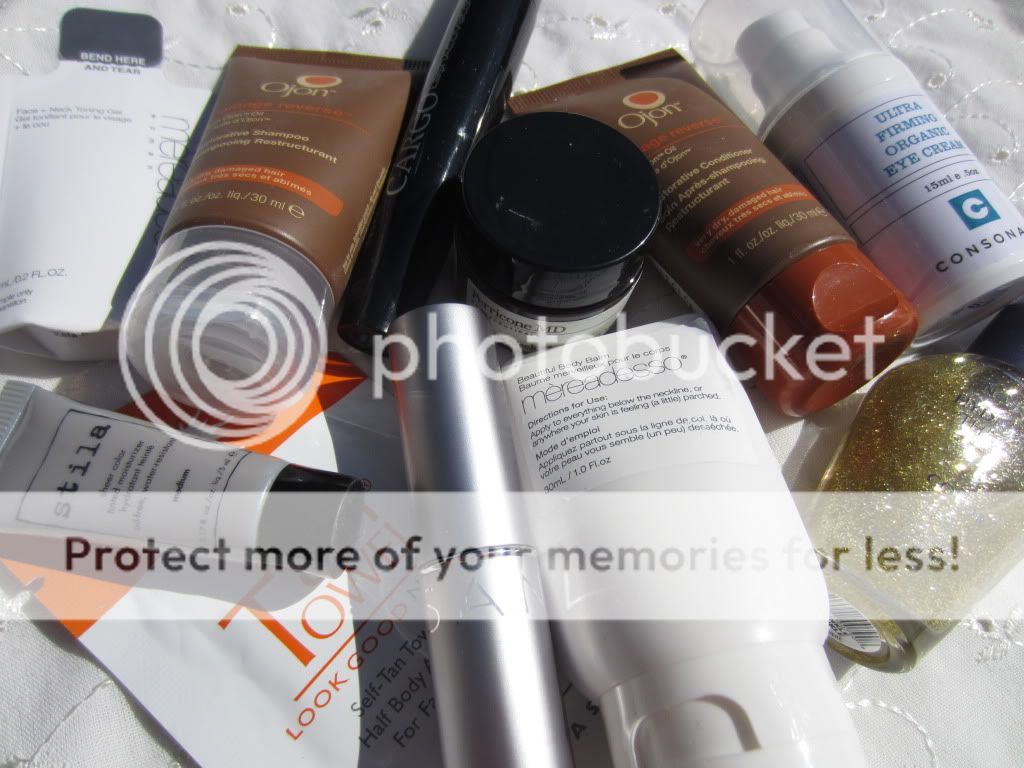 Ojon Damage Reverse Restorative Shampoo* and Conditioner with Ojon Oil (30ml)* are designed for very dry, damaged hair and claim to be the ultimate do-over for damaged hair. I consider my hair dry and damaged because I dye it every month, even if the damage does not really show (at least, I hope so!) as I like to look after it. I keep hearing tons of great things about Ojon so I can't wait to give these shampoo and conditioner a try!
I guess you can never have too many eye creams, right? The first time I tried Consonant Ultra Firming Organic Eye Cream (15ml), I can't say I was really happy with it because it was incredibly watery and runny, and I felt like it did not want to be absorbed into the skin, which is very annoying. I will continue using though and we will see how it goes.
I won't be using Perricone MD Firming Neck Therapy (7.5ml) because, well, I'm 23 and I don't think my neck needs firming
yet
, so I will give it to my mother instead. The texture is nice though, it's a light whipped cream that is absorbed super quickly in the skin.
The most interesting item in this bag to me is CARGO Lash Activator in Brown (full size), which is really a mascara that boosts the appearance of lashes after 30 days. I have never used something like this before and having to deal with incredibly, short and invisible lashes, I can't wait to try it!
I don't think I have tried a tinted moisturizer before so I'm eager to try this Stila Sheer Color Tinted Moisturizer in Medium (5ml), which claims to be oil-free and water-resistant. I have only tried it on my hand so far and even though the product looks a bit dark for my skintone straight from the tube, I have found that it blends surprisingly nicely with my skin color. This tinted moisturizer contains light-diffusing pigments which helps the even out skintone and makes skin looks dewy and radiant. The texture is also smooth and it leaves my skin soft.
Vasanti Tinted Lipbalm in Bahamas (full size) is my first Vasanti product and I'm glad to finally be able to try something from this brand as I keep hearing great things about it. I think the packaging looks very classy for a lipbalm - in fact, I thought it was a lipstick, but because Bahamas appears to be a dark plum in the tube, I'm glad it goes on sheer on the lips. I love how silky and buttery it glides on the lips, while leaving them a bit glossy.
I have never heard of mèreadesso (what a strange name!) before and I can't say I was extremely excited about the samples I received because, once again, I will have to give the Face + Neck Toning Gel (7ml) to my mother because it will be useless to me, and the Beautiful Body Balm (30ml) is nothing special - although it smells deliciously similar to
KORRES Basil Lemon Moisturizing Body Butter
- but I can't say it left my skin softer or smoother. Although, the hard plastic bottle is pretty hard to squeeze.
I have been wanting to try Tan Towel since forever but because I never seem to have had a really good experience with any self-tanner before, I was hesitant, so when I discovered that a Classic Self-Tan Towelette Half Body Application For Face & Body was included in the Birthday Bag, I was very happy! I must say I'm a little scared to try this because I'm afraid it will goes on streaky, but it claims to deliver a quick and even application with no streaking, mess or fuss, and to produce a uniform, natural looking glow within 2 to 4 hours.
I can't say I was excited to see that what appeared to be a cheap gold glitter nail polish in a clear base was included in the bag, but after doing some research, I discovered that Nail Tek Hydration Therapy Color (I received the shade Twinkle Twinkle) combines pure water and Pentavitin, a unique water magnet molecular that banks moisture within the surface of the natural nail to establish and maintain the natural moisture balance of the nail nail bed, and cuticles. How genius does it sound?
eBeauty.ca's Birthday Bash is still going on through Friday and the
Beauty Bags
, sold for $15 and valued at $105, will be available while quantities last.
*These products are NOT cruelty-free
Disclaimer: One or more products were sent to me for consideration to review. I am not affiliated with this company and the fact that the products were free absolutely does not influence my opinion.