100% Pure is a natural, organic cosmetics and skincare line. Our products are truly 100% pure, meaning that they are healthy, nourishing and never contain any synthetic chemicals, artificial fragrances, chemical preservatives or any other toxins. We are also an eco-friendly company. Our pure, biodegradable formulas are packaged with post-consumer recycled materials and are printed with biodegradable non-toxic vegetable ink. 100% Pure loves animals as well! We are cruelty-free, passionately against animal cruelty and charitable towards animal welfare.
How cute is the packaging?
Ever since I tried 100% Pure
Body Creams
, I got hooked, so when the lovely Lin reached out to me with the opportunity to send me a few samples, I couldn't be happier! I was very curious about their makeup products containing fruit pigments instead of harsh chemical pigments so Lin very kindly sent a few of them my way and after having played with them for around three weeks, I can honestly say I'm very pleased with them!
This satin silky rouge for your cheeks to give you that healthy flush for color. It can be worn on bare skin or on top of foundation, extremely blendable. Colored with 100% Pure's patent-pending fruit pigmented technology.100% Natural formula is free of chemical preservatives, artificial fragrances, synthetic chemicals and are colored with the pigments from antioxidant rich fruits and vegetables.
My first impression of this product was that the jar is very small for the price, but don't let this fool you - I quickly realized that it will last a long time because of its intense pigmentation, meaning that you really don't need a lot of product to achieve a natural flush of color.
Rosy is the perfect pink coral for my fair skintone and the texture is asbolutely perfect! It glides on so well, it is very satiny and it is easily blendable and buildable.
I like the packaging - a cute little glass jar - but I'm not sure it's the most appropriate packaging for a blush. I prefer to apply cream blushes with a duo fibre brush rather than with my fingers but because of the packaging, you will have to dig your fingers in it, which is not really hygienic.
This fruit pigmented Peppermint Blush to make you sparkle and shine! This blush is colored with the antioxidant and vitamin rich fruit pigments instead of minerals or synthetic dyes.
Despite its name, when I first opened this blush, I was surprised by the intense peppermint smell - I have never used a scented blush before! I quite like it though, it's like a nice little surprise everytime I use it. The smell doesn't linger on the skin though, which I'm not sure if it is a good or bad thing?
Peppermint Candy is described as a shimmery pink which scared me a little because I'm not a fan of shimmery blushes - they can easily look glittery and not natural at all - but this one is just perfect! It gives me a pretty glow and you have to look closely to really notice the shimmers.
I was a tad disappointed at the pigmentation of its blush because I'm relatively pale and I find I have to apply it with a very heavy hand for the color to properly show, but it's not a deal breaker because the color is definitely pretty and a great match for my skintone.
100% Natural bronzer will give you a warm, beautiful, sun kissed glow instantly from pigments of cocoa, coffee, tomato and berries. Luminescent, light reflective pigments will give you a subtle shimmer. Concentrated with anti-aging vitamins, antioxidants and skin nourishing ingredients. Use all over your face and body whenever you desire a sun kissed look.
After my experience with the Peppermint Candy blush, and because the main ingredient in this bronzer is cocoa, I was expecting it to smell at least a little chocolatey, but it didn't, and even if it may seem silly, I must say I was slightly disappointed... I told you it was silly!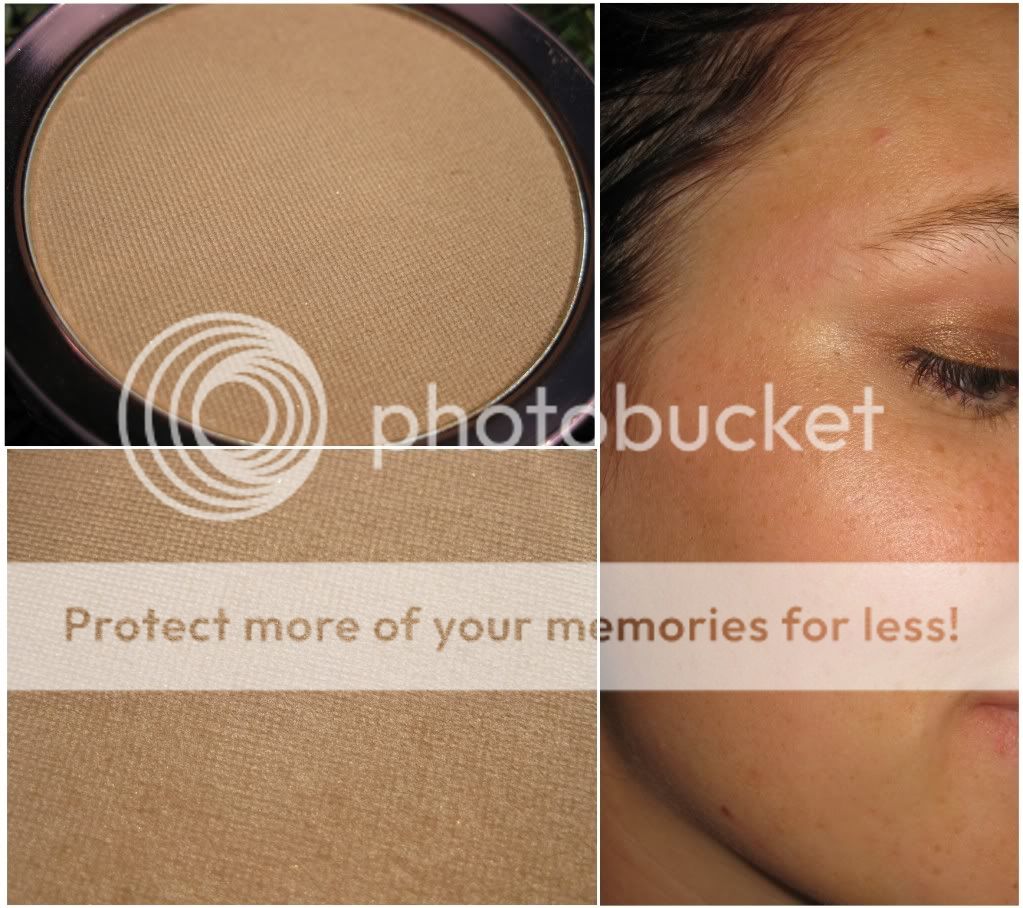 Brown Sugar is a golden brown shade that is pretty pigmented, but nothing over the top, even on my fair skintone.
Even though it is claimed that "luminescent, light reflective pigments will give you a subtle shimmer", you have to look closely at the bronzer in the pan to notice some slight shimmers, but once swatched or applied on the skin, it goes on matte. It does contain mica, which is a natural mineral shimmer, but I would say it's a matte bronzer. What is strange is that it still infuses a nice glow to my face... I guess I won't complain?
To be honest, Brown Sugar has quickly became one of my favorite bronzer, especially for contouring.
Both the Fruit Pigmented Blush and the Cocoa Pigmented Bronzer come in the same packaging - a lightweight metal tin with a detachable embossed lid and a large mirror on the inside - but I'm not sure I really like it. It is very pretty but I would be afraid to keep those products in my handbag because they could slide open and the lid could crack. I do really like the big mirror though!
The blush and the bronzer have a great texture, they go on very well, they are not chalky at all and they stay on all day.
L - R: Brown Sugar, Peppermint Candy, Rosy
I'm very impressed with 100% Pure makeup products and I would definitely recommend them. Be sure to have a look at their
website
for other 100% pure goodies!
Disclaimer: These products were sent to me for consideration to review. I was not paid for this review, I am not affiliated with this company and the fact that the products were free absolutely does not influence my opinion.