Product samples from Monave:
I've been very kindly given the opportunity to try some products from this brand I had never heard of before. They have a wide selection of mineral makeup and vegan skincare, and of course, this company cruelty-free! As I'm trying to downsize my makeup collection, I opted for skincare products and a makeup brush:
Flat Top Brush
Honey Clay Cleanser
Unscented Emollient
Gentle Bamboo Honey Facial Polish
I Am Not a Nugget stickers from Peta2:
I have joined Peta2's
Million Sticker Mania
, and you can help animals too by ordering free stickers before they run out!
Surprise package from Biotherm:
I still haven't figured out how Biotherm got my mailing address, and how they found my blog? Strange... but I certainly won't complain! here's what I received:
White D-Tox Translu-Cell Intense Brightening Serum
Aquasource 24h Deep Hydration Replenishing Cream with Thermal Plankton Cellular Water
Coupon from webSaver.ca for a free box of Chocolate Cheerios on June 21
Coupons from P&G:
I really want to try their new Natural Instincts hair dye!
My prize from Sarah's mini-giveaway:
Sarah held such a cute Easter giveaway! We had to guess how many Cadbury Creme Eggs were in the bowl and I was so close, I guessed 40 but there was 39 eggs! My prize is 6 Creme Eggs, yum! Thank you Sarah =D
U by Kotex samples:
I use the DivaCup so I don't need those, but I have ordered them for my mother. You can still order some
here
(US and Canada)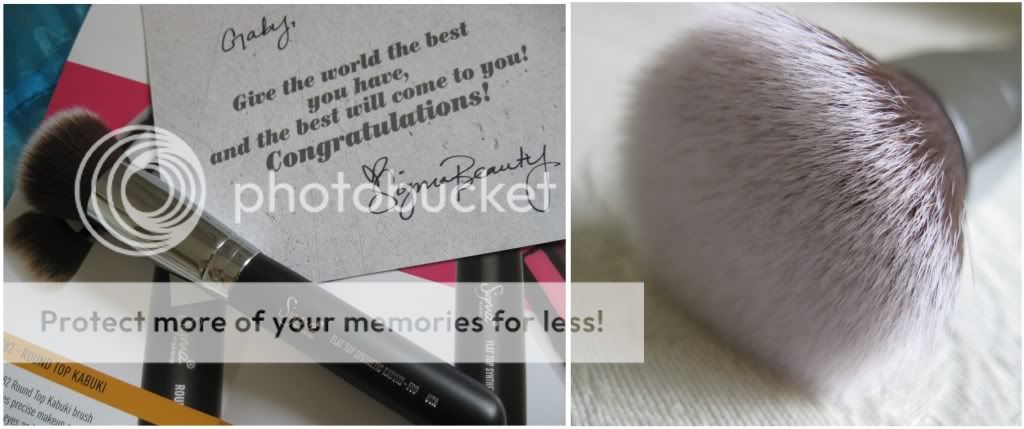 I won Rabiyah's giveaway:
I was lucky enough to win a
Sigma Flat Top Synthetic Kabuki - F80
! I was excited to finally try it as it seems to be getting so much rave on the blogosphere, and I agree, it's great! The bristles are really super soft and dense.
This exclusive flat top synthetic kabuki was designed to deliver a flawless makeup application. The Sigma Makeup F80 is a buffer brush that can be used to blend powder or liquid products. The short and dense bristles make it easy to buff your liquid foundation. The long handle adds comfort to your makeup application. The synthetic fibers are ideal to be used with liquid products and can be easily cleaned. Made of Synthetic Sigmax HD filament.
Thank you Rabiyah!!
♥ Give Me Everything - Pitbull ft. Ne-Yo, Afrojack, Nayer