I recently discovered this manicure "trend", and I was curious to see the results on me so I decided to give it a go yesterday. It was my first try so it's far from perfect, but I love the effect!
To achieve this look, you will need:
some alcohol (I used Isopropyl Rubbing Alcohol 70% U.S.P. I've seen many people using vodka but I wouldn't personally want to "waste" such a yummy beverage for a manicure... I'm such a drunk, I know LOL)
cup to pour the alcohol and soak your nails in it
pieces of newspaper (the smaller the text, the better in my opinion)
light nail polish
top coat
Start by painting your nails with a light nail polish. I chose a pale pink but you can use any color as long as it's light, so the newspaper prints will show on it.
I used Sally Hansen Hard As Nails Xtreme Wear in First Blush
Be sure that your nail polish is completely dry before proceeding with the next step. I was too excited and I completely messed up my right thumb because I didn't wait long enough. Just to be sure, you could even wait a complete day.
Dip your nails in the alcohol and let them soak for around 30 seconds. I'm not sure if it really makes a difference how long you let them there, I guess I will have to experiment.
I prefer to dip one nail at a time, even though that's not what I'm doing in the picture LOL.
Then place a piece of newspaper on the nail and press firmly for about 30 seconds. Make sure it covers your entire nail (curve and tip), and DO NOT MOVE or else the text will be blurry (unless it's the look you're going for).
Peel off the paper gently, and finish with a top coat.
TADAHH!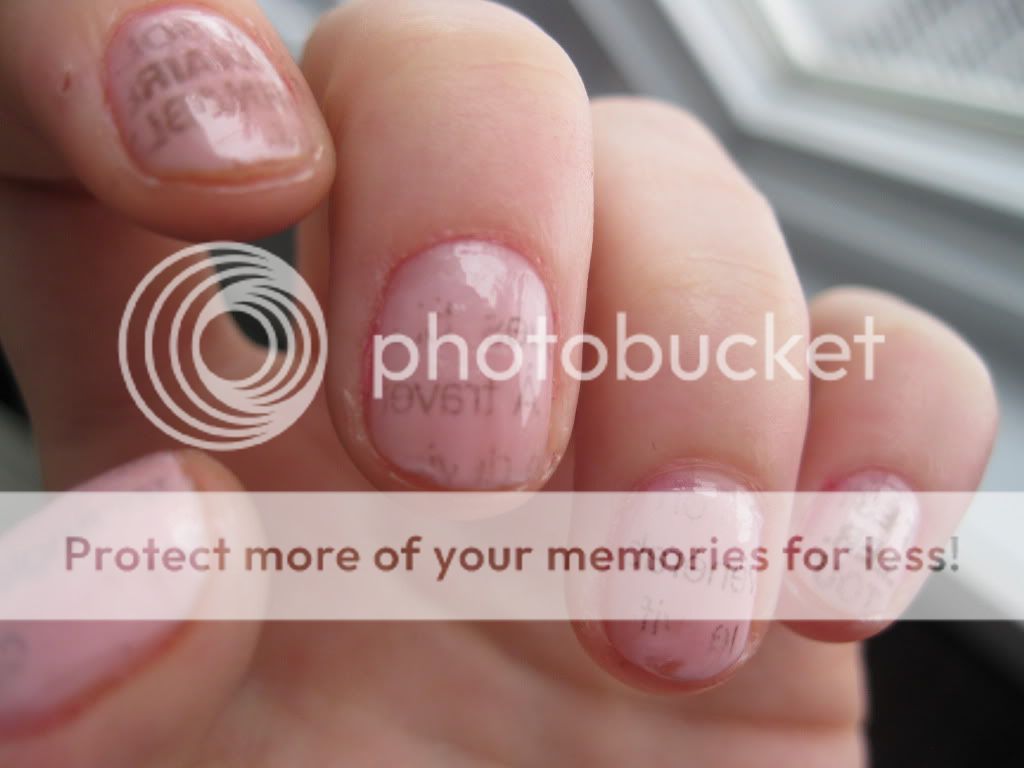 I personally think this manicure could look tacky on long nails, but it's up to you. I prefer my nails short anyway.
I hope you enjoyed this tutorial and please don't hesitate if you have any question (=